Back the Blue and Rescue America Protests Emerge Across America As Silent Majority Wakes Up To #WalkAway Movement
Back the Blue and Rescue America Rallies emerge across America as the Silent majority shows their presence, even as the Main stream media is mum on these nation wide developments. In few incidents the pro-police rallies were confronted by violent BLM and Antifa Activists that resulted in brawl and arrests.
Hundreds March Through West Hollywood During 'Rescue America' Rally
Hundreds of Americans marched from West Hollywood to Beverly Hills on Saturday to show their love for the country.
The group began gathering around 1 p.m. and grew from around 200 to approximately 400 protesters as of 2 p.m. Police shared that the group began to disperse around 5:30 p.m.
Unlike the mostly violent BLM protests that took many lives of civilians and peace officers, Police described the attendees of 'Rescue America' as peaceful and said they were mostly staying on sidewalks in the area of Beverly Gardens Park at the Beverly Hills sign.
The march was hosted by #WalkAway Campaign, which was founded in 2018 and encourages liberals to 'walk away' from the Democratic Party
Back the Blue: Community rallies to show support for police officers
Crowds gathered in Raleigh Saturday morning for a "Back the Blue" rally supporting law enforcement.
The number of people attending the pro-law enforcement rally are just a fraction of the 40,000 members of "Back the Blue NC" Facebook group.
Back the Blue NC Facebook group founder Lindsay LiCausi spoke at the rally about the "Defund the Police" movement and the killing of George Floyd.
"I also was upset by what I saw unfold during that incident, as I know most of us were," said LiCausi. "Anybody with a heart would be upset watching a grown man beg for his life and beg for his mother as he lay on the ground dying, no matter what his criminal background entailed. However in America, the beautiful thing is that when we have a problem, we can fix it."
Pro-Police protesters clash with BLM demonstrators in Colorado
The pro-police attendees said two different groups of counter protesters — consisting of Black Lives Matter supporters and what appeared to be members of Antifa — joined the event. They also claimed a faction from one of those two groups attacked a veteran who was in a wheelchair, according to The Collegian.
Ciara Wilson, a local high school student who filmed part of the fight, said there were no police to be found as opposing sides battered one another in the grassy ditch.
"Once they get all the way down the street from the police station, it just goes into an all-out brawl in the middle of a grassy pit," she told The Collegian. "10 to 15 people just piled up on top of each other. Chokeholds, batons, punched in the face all of it, and there were no police."
More than 100 'back the blue' at rally in Fort Worth, oppose defunding police
Supporters of law enforcement organized at the Fort Worth Police and Firefighters Memorial near the West 7th Bridge before marching to the Tarrant County Courthouse for a rally that featured speakers Sheriff Bill Waybourn and conservative organizers, politicians, and political candidates. The vast majority of attendees were not wearing face masks as mandated by Gov. Greg Abbott and advised by the broader healthcare community. Carlos Turcios, 18, described why he organized the event.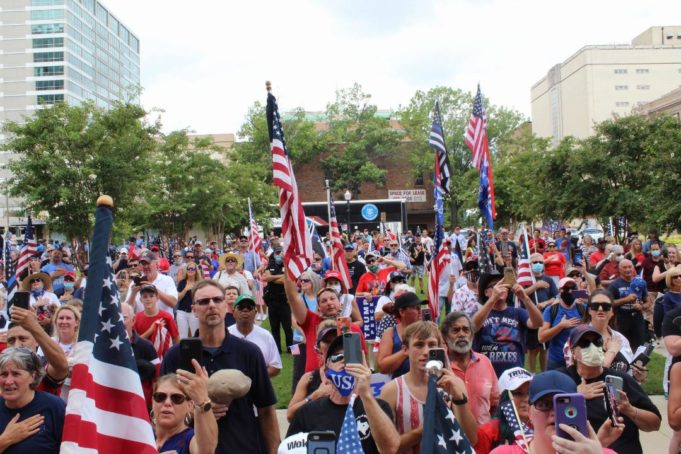 "We need to come together as a country," he said. "This is not a partisan issue. Everyone can come together, have a dialogue, and support our country. A house divided cannot stand."
He worries that the Black Lives Matter movement will "demoralize" police officers and leave communities less safe.
'Back the Blue' rally held in Fort Pierce on Saturday
In Fort Pierce on Saturday, the St. Lucie County Business and Community Alliance held a "Back The Blue" rally to show support for Fort Pierce police and the St. Lucie County Sheriff's Office.
U.S. Rep. Brian Mast, R-Fla., kicked off the event at the Causeway Cove Marina.
The event organizer said that after seeing a similar event in Martin County, she wanted to bring it to St. Lucie County.
"It's such an usual trying time," Audra Macon said. "I feel for law enforcement right now, that I want them to know that there are people who still believe in them and are still here to support them."
People participating in the rally marched across the South Hutchinson Bridge to the Fort Pierce Manatee Center.
There are numerous other rallies where bikers and civilians showed support to the Police to boost their morale.
Recommend

0

recommendations
Published in General, Back the Blue, Law and Order, Politics, Protests, Trump