Biden: Pro-Trump Protesters Were 'Spoiling for a Fight' in Portland
Former Vice President Joe Biden said Sunday that the pro-Trump caravan that drove through Portland, Oregon, on Sunday was "spoiling for a fight."
Biden was responding to the shooting death of a Trump Supporter Saturday evening who had reportedly participated in the pro-Trump Rally.
The victim's name has been reported as Aaron Danielson aka Jay Bishop. According to the Oregonian, police are investigating a man named Michael Forest Reinoehl, 48, for the crime. He is allegedly a supporter of Antifa and Black Lives Matter who has taken part in riots over the past several months in Portland, and was reportedly arrested by police at a riot July 5th and cited for possession of a loaded weapon.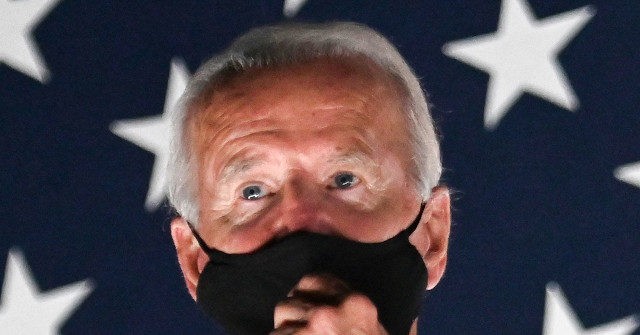 Video of the rally showed confrontations with left-wing Antifa and BLM mobs on the streets.
Antifa clash with drivers in the Trump caravan in downtown Portland. They spray urine at the cars, others spray mace and shoot paintballs back. #PortlandRiots #antifa pic.twitter.com/YvaIzsNuUU

— Andy Ngô (@MrAndyNgo) August 30, 2020
However, there was no evidence yet that Jay Bishop was involved in those confrontations. The caravan was reportedly over when he was shot and killed.
In a statement, Biden condemned the use of violence by all sides, but then blamed President Donald Trump for "incitement."
He also said: "It is not a peaceful protest when you out go out spoiling for a fight." He has made no similar criticism of the left-wing activists who have rioted in recent months.
Critics suggested that Biden was blaming the victim.
Byron York of the Washington Examiner wrote: "[Biden's] conclusion: It's all President Trump's fault. When a Trump supporter shoots a rioter in Kenosha, Wisconsin, it's Trump's fault. When a rioter shoots a Trump supporter in Portland, it's Trump's fault. And in that latter case, Biden suggested, the victim was asking for it."
Biden is expected to address the issue of violence in a speech Monday in Pittsburgh, Pennsylvania.
Joel B. Pollak is Senior Editor-at-Large at Breitbart News
Recommend

0

recommendations
Published in Politics, 2020 Election, Joe Biden, Law and Order, Portland, Riots